About Us

WENZ Blister-Packaging:
Your Partner for the optimal packaging solution!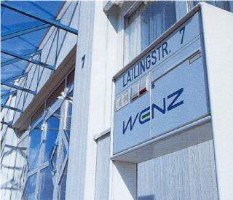 Our company was founded in 1989 under the name
"Wenz Maschinenbau" which was based in southern Germany
founded. Since then, we have successfully expanded our operations worldwide and are highly efficient in the development and manufacture of packaging machines and special machines.

Our products speak for themselves and are all over the world. Customer examples include:
You do not yet belong to our large circle of satisfied customers?

Our dedicated and dynamic team with high professional knowledge will work out the ideal packaging solution with you and submit practical proposals. We attach great importance to a close partnership with our customers. This guarantees a smooth and well-organized processing of your order.
Your Benefits

Our decades of product know-how makes us a competent partner for technical questions. This enables us to advise you individually and realize your needs perfectly.
We will email you at any time a offering tailored to your needs, including 3D layout drawings in order to convince you of our future-oriented designs.

We won't stop communications even after the delivery of our products! You naturally get professional training and instruction from us, and you will be looked after by an expert technician on site if necessary.

Our worldwide customer service and direct communication with our customers will allow a rapid exchange of information on specific issues and problems at any time.